Sun Tech Industries well defined Quality Program is based on ISO 9001:2015 with a company-wide commitment to go beyond the call of duty and provide our customers with product, service and delivery that meets or exceeds their requirements and expectations.
We strive to improve on those processes as we continually review both our customers needs and how we can help them achieve their goals as well as our own.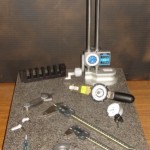 We maintain precise and consistent quality during each shift by using:
• Experienced mold processing and maintenance technicians with over 100 years experience combined.
• Continually trained machine operators who are accountable for the work that they do.
• The latest equipment technology.
• A preventative maintenance program that minimizes repair cost and maximizes tooling and equipment life.
Quality Processes
Part Approval:

Verified per customer requirements which can range from a master sample sign off to a PPAP.
A Mold Print & Part Approval Form signed off by the Customer & Sun Tech is required when a PPAP is not done.

Traceability:

Maintained each step of production from the receiving of raw material until parts are shipped to the customer.
Date Stamps on box labels are used to provide traceability to material lot numbers and production dates.
Date codes directly on the tool can provide an additional trace factor when packaging becomes unavailable.

Inspection & Certifications:

Inspected on the characteristics and individual part requirements during production runs.
Raw material certifications, data sheets and MSDS forms are maintained.

Monitoring & Measuring:

All measuring equipment is calibrated or verified at specific intervals against measurement standards that are traceable to international or national measurement standards and are noted when no such standards exist.
Established procedure to define and deal with nonconforming product.